News
Taylor Swift doesn't let dancers hear unreleased music on video shoots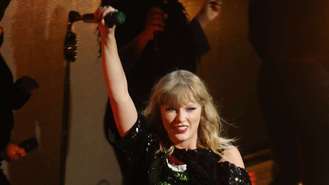 Taylor Swift is so fearful of song leaks she doesn't let her backing dancers hear her unreleased tracks during music video shoots.
In a behind-the-scenes look at the filming of her music video End Game, shot ahead of the release of 2017 album Reputation, the Look What You Made Me Do singer explained that the dancers weren't actually dancing to the finished song.
The 28-year-old goes to extreme measures to protect her music and she revealed that her troupe of dancers in the pub scene were actually moving to a basic "click-clack" rhythm, while she listened to the song in her ear pieces.
"I commend them fully because they've been pretending like there's music playing when there's not," Taylor explained in the clip.
"I have these in my ears (headphones). They've been dancing to a click track. It's incredibly hard work."
The professional dancers can then be seen moving along to the click track as the Bad Blood singer mimes the lyrics along with her in-ears.
End Game collaborator Ed Sheeran revealed in a recent interview with Brazilian publication Capricho that even he gets the suspicious treatment when it comes to hearing Taylor's new songs.
"I remember when I did a song with (Taylor) for her album, I was in San Francisco, and they sent someone with a locked briefcase with an iPad and one song on it," he told the news outlet. "They flew to San Francisco and played the song I've done with her and asked if I like it... I was like, 'Yeah,' and they took it back. That's how I hear it."
Source: www.msn.com
Added automatically
621 views