News
Remember when Rita Ora auditioned for Eurovision?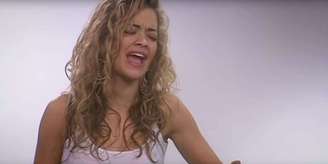 Do you remember a time when Rita Ora wasn't supremely famous? It DID exist – really – and it involved an audition for the Eurovision Song Contest. In 2009, way before she landed a spot under Jay Z's wing, a seat on the X Factor judging panel and a part in the Fifty Shades Of Grey movies, our Reets signed up to sing for Great Britain.
In fact, her audition tape has been rediscovered on YouTube, and shows a then 18-year-old Rita performing Oleta Adams' hit song 'Get Here'. Take a look…
Andrew Lloyd Webber was certainly impressed and Rita seemed nervous as she waited outside the audition room – but did she land the gig? Well, of course she blimmin' did.
So, why did we never see Rita take to the Eurostar stage in 2009? Turns out, she turned it down, and she didn't regret her decision at all.
"Right from the start I was, like, 'What am I doing here?'" Rita has since recalled. "I did my song and walked out. No one knew what to do. They started looking for me, calling my agent."
She continued: "Imagine if I'd stayed! It would probably have been all over for me. At best, I'd be a contestant on that diving show…? Splash! Yeah, Splash! I love that show."
Bit awkward though, as it was Sugababe Jade Ewen who went on to perform Lloyd Webber's song 'It's My Time' at the Moscow Eurovision that year – and appeared on Splash! in 2013.
That same year, Jade tweeted: "Easy to mock when you are enjoying success. Eurovision and Splash? Proud of both. Some manage to sleep their way to success some have morals."
Source: www.msn.com
Added automatically
897 views