News
Ozzy Osbourne starts work on 13th solo album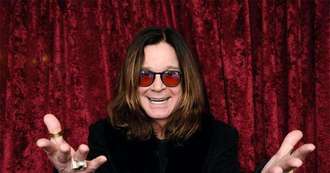 Ozzy Osbourne has commenced work on his 13th solo studio album during lockdown, his wife and manager Sharon Osbourne has confirmed.
The Prince of Darkness released his latest studio album 'Ordinary Man' back in February, and Sharon says that he's working with producer Andrew Watt once again on his new record.
Speaking in the latest episode of the Steve-O's 'Wild Ride!' podcast, Sharon said: "He's starting his second album with Andrew Watt right now. And you can't stop him. He's doing it."€
In a Reddit AMA session back in February, Ozzy first revealed his plans to make another album, saying: "I am making another album because while I can't tour, I can make music. What I learned from Ordinary Man, it got the juices flowing again. People say they write the best songs when they're unhappy, and I was unhappy last year."
Ozzy, of course, has suffered a series of health setbacks in recent years including a serious fall in his bedroom, subsequent neck surgery and hospitalisation for pneumonia. He also revealed that his Parkinson's disease diagnosis earlier this year.
Asked for an update on Ozzy's health, Sharon said: "He's doing good. He's doing really, really good. He's had a terrible, terrible injury. At one point, they thought he would never walk again, but he is — he's walking and he's doing great. He's been hit by so much medically, but he's doing good. He's getting stronger every day.
"Oh, God. I mean, to be hit with the spinal injury, and then what it had done was it kind of started off the Parkinson's disease that he had the gene for but was never activated — he just had the gene. It's like having the breast cancer gene but it never comes into fruition — it never gets alive. And he had the Parkinson's gene and this accident just sparked it off. So he kind of had a double dose of everything. But he's doing good.
"It's heartbreaking — it's heartbreaking — to see this. He's had this ride in his life, and then suddenly — boom! — you are floored. And to have your health taken away... No matter what you've got money-wise or anything in the world, it's something you can't fix."
Speaking to Good Morning Britain back in March, Ozzy said: "My desire is to get back on stage. I'm not ready hang up my mic yet. That's what I live for. To do shows."
Ozzy's No More Tours 2 with special guests Judas Priest is currently due to reconvene at Newcastle Utilita Arena on Friday 23rd October before taking in shows in Glasgow, London, Birmingham, Manchester, Dublin and Nottingham.
Originally due to take place in January and February 2019, Ozzy first rescheduled the tour for early 2020 due to his pneumonia and severe upper-respiratory infection. However, Ozzy's "slower than expected" recovery from his fall forced him to postpone it for a second time in October 2019.
Source: www.msn.com
Added automatically
364 views