News
Robbie Williams has written a song with Shaun Ryder after bonding over interest in UFOs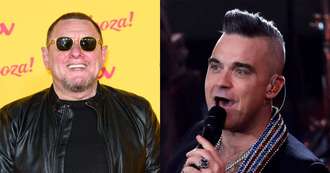 Robbie Williams has revealed he's written a song with Happy Mondays frontman Shaun Ryder.
The father-of-four shared that fans could expect the track to be released some time next year as he appeared as a guest on Adam Buxton's podcast.
As the pair discussed Williams' UFO experiences, talk turned to Ryder's 2013 documentary series on extra-terrestrial sightings and the Rock DJ hitmaker shared news of their collaboration.
"Me and him have done a song together," he remarked. "Quite often I try and channel Shaun Ryder when I'm writing songs."
"The song will emerge, plans change all the time, but hopefully some time in the spring," Williams continued.
The former Take That member said he had spoken to Ryder about his series and the pair had chatted about UFOs.
"[Ryder] also said to me 'Right, it was just by a tree in front of me. They come all the time Rob," he went on, impersonating Ryder's Mancunian accent. "He sees what he sees."
Williams has been open about his interest in and alleged experiences of the paranormal, but claims not to have had any sightings of anything other-worldly since becoming a father in 2012.
The podcast also saw him discuss plans to investigate UFO sightings further to "examine his own experiences" for a TV show at some point in the future.
"It may be mental illness or it may be that there's something to it," he said.
Source: www.msn.com
Added by AutoAdmin
52 views