News
What song will John Lewis choose for its Christmas advert this year?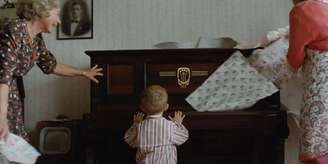 John Lewis & Partners is a brand that knows how to get us all in the mood for Christmas with its beautiful festive adverts.
Last year, it brought us the story of Edgar, an adorable young dragon, who was so excited about Christmas that he couldn't control the flames from his mouth.
He burnt the village Christmas tree, dampening everyone's Christmas spirit, and finding himself unpopular within the community. But when his best friend Ava gave him a thoughtful gift just right for an excitable dragon, he realised how much she cared for him and our hearts were suitably warmed.
In 2018, Sir Elton John was the star of the advert, which charted his journey from a little boy sitting at a piano to a global superstar.
While in 2017, it was all about Moz the Monster, an unusual but adorable creature who struck up an unlikely friendship with the little boy whose bed he was living under.
Over the years, the John Lewis Christmas ads have become an important feature of the British Christmas period, not least because of their soundtracks.
The retailer has a reputation for going with whimsical, acoustic versions of hit songs to accompany its festive storytelling - and it's not unusual for these covers to be played frequently on British radio, or even make it into the charts.
In terms of 2020, we don't yet know the theme of the John Lewis Christmas advert, or what the song will be.
However, we can look back on previous years to remind ourselves of soundtracks gone by...
2008 - Anon 'From Me to You' (originally by The Beatles)
2009 - Taken by Trees 'Sweet Child o' Mine' (originally by Guns N' Roses)
2010 - Ellie Goulding 'Your Song' (originally by Elton John)
2011 - Slow Moving Millie 'Please, Please, Please, Let me Get What I Want' (originally by The Smiths)
Source: msn.com
Added automatically
316 views