News
Beyoncé subpoenaed for filming 'dance-off' on a Shelter Island burial site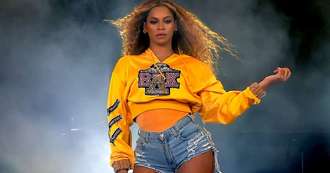 Beyoncé might be facing legal trouble after filming a "dance-off" on a burial site without proper permits on New York's Shelter Island.
Shelter Island local Mike Gaynor accused the Grammy-winning singer of filming without a proper permit and reportedly tried to deliver a subpoena to her East Hamptons compound.
The "dance-off" would have been filmed as a part of Beyoncé's recently released Black is King visual album.
In September, Gaynor filed a lawsuit against Shelter Island, its trustees, and board members of the Community Preservation Fund for allowing the star to film at Sylvester Manor Educational Farm, a historical site and former home of slave trader Nathaniel Sylvester.
"Please know that there are at least 200+ enslaved Africans and Manhasset Indians buried on their land and so that's just not a place where you film a dance-off," Gaynor told Page Six in September. "There's no way they would have allowed her to turn up without knowing – I believe in fact the town did know about this and the town was signed up on an NDA so that the Manor and the town could make money."
According to documents obtained by Page Six, "It has now been over a month since Beyoncé was served with the Subpoena, and she has not objected to any of the Subpoena…nor has she provided any justification for her failure to respond... This Court should compel Beyoncé to comply…within 14 days issuing a warrant for a Sheriff to bring her to be deposed – or order her to pay costs, penalties, and damages."
Meanwhile, a Shelter Island resident expressed impatience around the town board "giving favors to elites like Beyoncé."
"They don't care about the Ambulance Corps or the Meals on Wheels programs – they're only for rich people."
Gaynor, for his part, claimed that he is using his own considerable wealth to advance the town's local interests. "I'm a very wealthy person, and I'm able to defend myself when I'm treated unfairly in my community," he said.
"What we find so beautiful about Shelter Island is its historical nature, it's a very simple place, untouched, but increasingly the fact is that if you're wealthy on the island you'll be treated one way, and it's different for everyone else."
Source: msn.com
Added automatically
339 views