News
Leigh-Anne Pinnock removed parts from memoir that felt like 'oversharing'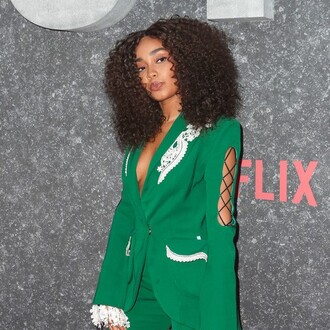 Leigh-Anne Pinnock took some parts out of her memoir Believe because they felt like an overshare.
During her book talk at London's Southbank Centre on Friday, the former Little Mix star revealed that she took some details out about her relationship to her now-husband Andre Gray because she wasn't ready to divulge them.
"I remember doing my Audible and as I was reading it, there was a chunk that I was like, 'This is oversharing. I'm not ready to go this into it.' So I remember taking some bits out but I did really want to show that not everything... nothing's perfect in life," she said.
While she was hesitant to write about her relationship with the soccer star, the 32-year-old wanted her fans to know that their romance isn't as perfect as it seems on social media.
"You might look at Instagram and think things are picture-perfect... yes, we're in a great place now but it took a lot to get there," she continued. "We really did have to go through things and s**t but I feel like the way that we made it out of that and the way we got through that it almost it even sweeter. We were able to fight for it and to overcome stuff. And yeah, that was like really hard for me to put into the book."
Leigh-Anne began dating Andre in 2016 and they got married in June. They share two-year-old twin girls.
During an interview with Glamour earlier this month, the My Love singer seemingly implied that Andre once cheated on her in the early days of their relationship.
"I think people often think that if something bad happens in a relationship - if you get cheated on or whatever - that it's automatically done, it's over, and that's fair enough, but in my case, I chose to work at it, and I am so happy that I did," she stated.
Believe is on sale now.
Photo: Cover Media
Source: Cover Media
Added automatically
82 views