News
Travis Scott avoids criminal charges over Astroworld crowd crush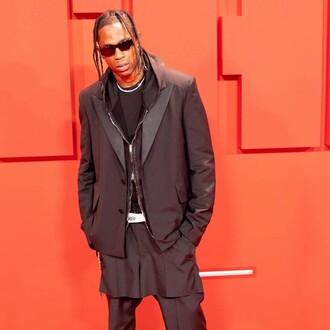 Travis Scott would not face criminal charges over a deadly crowd surge during a concert, a Texas grand jury has decided.
The goosebumps rapper, 32, was performing at the Astroworld music festival in Houston, Texas, in 2021, when a crowd crush left ten people dead.
The record producer's lawyer, Kent Schaffer, confirmed that a grand jury had decided not to indict the rapper on any criminal charges stemming from the event, reports the BBC.
"He never encouraged people to do anything that resulted in other people being hurt," Schaffer said, adding that the decision was "a great relief".
Thousands of the event's estimated 50,000 attendees were reportedly injured when the over-capacity crowd pressed towards the front of the stage during Scott's headline performance.
Police and federal officials have been investigating whether Scott and concert promoter Live Nation had required safety measures in place.
Critics have accused the Trance rapper - who has two children with Kylie Jenner - of continuing to perform despite visible problems occurring in the crowd.
Scott previously said he didn't know fans were injured during the crush.
"It wasn't until minutes until the press conference (after the show) until I figured out exactly what happened," he told radio star Charlamagne Tha God on his YouTube channel in 2021.
Schaffer expressed "sympathy" for those who were killed at the festival and their families, but stated that Scott was "not responsible".
"Bringing criminal charges against him will not ease their pain," he added.
Photo: Cover Media
Source: Cover Media
Added automatically
131 views