News
Fink: I had to write about Marling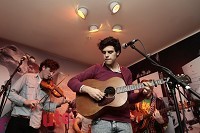 Noah And The Whale frontman Charlie Fink has said he had to write about the pain of his break-up from Laura Marling to help him get over it.
The 25-year-old revealed some fans were shocked when the band followed their light-hearted debut album with The First Days Of Spring, which he wrote after his split from Brit-award winner Laura, which broke his heart.
Charlie said: "I had to make that album. It was very cathartic writing and recording it, even if it was a little difficult to play live.
He went on: "I was naive to think people wouldn't draw the conclusions they did, and I didn't want to cause trouble for anyone, it was just the record I needed to make.
"I was also surprised how much people asked me about it. I thought the record was candid enough, it spoke for itself, so I tried to be more reserved in conversation."
Charlie admits new album Last Night On Earth, is another change of direction.
He said: "People might think this album isn't as honest as the last, because I'm not pouring my heart out, but in it's own way, this is just as honest.
"I've written characters, but I'm still trying to look through their eyes, and there's a truth there.
"I guess I'm just not that tactical about my writing. If there was something I wanted to express, being exposed again wouldn't worry me.
"I needed to make the last album, and it's the same this time around. I'm happy, and these are the songs I had to write."
Source: music.uk.msn.com
Added by AutoAdmin
927 views