News
Simmons blasts Israel music boycott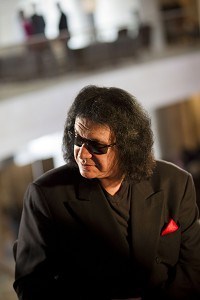 Kiss' Israeli-born singer-musician Gene Simmons is shouting out loud at the string of musicians who refuse to perform in his homeland.
"They're fools," the legendary bassist said in an interview on his first return to Israel since leaving the country as a child more than 50 years ago.
Simmons described the visit as a "homecoming" and offered a description of himself that might shock his legions of fans who know him as an American icon prone to spitting fake blood and sticking out his exceptionally long tongue.
"I'm Israeli. I'm a stranger in America. I'm an outsider," he said, speaking in a hotel lobby across a valley from the walls of Jerusalem's historic Old City. "I was born here and I'm proud of it."
Simmons had harsh words for musicians like Elvis Costello and the Pixies who have recently cancelled concerts to protest Israel's policies toward the Palestinians. Pink Floyd's Roger Waters has gone further, joining an organised movement dedicated to boycotting Israel and its exports, though he appeared in Israel in 2006.
"The countries they should be boycotting are the same countries that the populations are rebelling," he said. "People long to be free ... And they sure as hell don't want somebody who's a ruler who hasn't been elected by them."
Simmons, 61, is visiting Israel as part of his reality show, Gene Simmons Family Jewels, which follows the adventures and musings of the rocker, his long-time girlfriend, Shannon Tweed, and their two children.
While situations on the show are generally light-hearted, he said his stop in Israel has deep personal significance. "Coming back to Israel is a homecoming," he said.
Simmons was born Chaim Witz and spent his early childhood in northern Israel before moving to America with his mother when he was eight.
Source: music.uk.msn.com
Added by AutoAdmin
946 views