News
Primal Scream slam Tories over song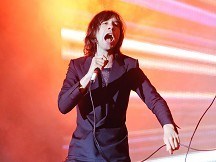 Primal Scream have launched a furious tirade against the Tories after being angered by the use of one of their songs at the party's conference in Manchester.
Eyebrows were raised when Home Secretary Theresa May chose the Glasgow outfit's 1994 hit Rocks - featuring explicit lyrics about drug taking and prostitution - to play at the end of her speech.
In a strongly worded response, the band said it was not only an inappropriate theme but an insult to their own politics to have been associated with the party, branding it a "sick association".
"Primal Scream are totally disgusted that the Home Secretary Theresa May ended her speech at the Tory party conference with our song Rocks," the band said.
"How inappropriate. Didn't they research the political history of our band? Hasn't she listened to the words? Does she even know what getting your rocks off means? No. She is a Tory; how could she?"
Expressing their political hostility to the Tory-led coalition Government, the statement continued: "Primal Scream are totally opposed to the coalition Government, Cameron, Osborne, Gove, Howard, Clegg etc.
"They are legalised bullies passing new laws to ensure the wealthy stay wealthy, taking the side of big business while eradicating workers' rights and continuing their attacks on young people, single parents and OAPs by slashing education and social security budgets, in effect persecuting the poor for being poor.
"We would like to distance ourselves from this sick association.
"The Tories are waging a war on the disenfranchised, they are the enemy."
Aides said the track was chosen by the conference organisers and not the Home Secretary or her team - though some of her advisers are said to be big fans of the band.
Source: music.uk.msn.com
Added by AutoAdmin
722 views