News
Clarkson: No drama with new album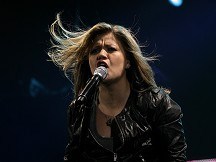 Kelly Clarkson has revealed her latest album is the first in which she and her record label have been in full agreement.
The former American Idol winner has had an number of run-ins with her label over the years, but she insists making the fifth offering, Stronger, was trouble-free.
"This is the first record that my label and I have agreed on everything. There's one song that I was kinda, uh... but it's not a bad song. I'm crossing my fingers that there's no more drama," she told the Guardian.
Kelly also confessed she's keen to collaborate with US country star Miranda Lambert - but fears she may have blown her chances.
"Miranda is one of my favourites. Have I thought about collaborating with her? Uhhh - I might think about it every day!" she said.
"I run into her all the time and I swear to God she thinks I'm stalking her and she hates me. Every time I run into her, usually I'm intoxicated and I'm slurring, 'We need to sing a song!' at her.
"She says she wants to do it, but every time she has an album coming out, I do too, so we're both way too busy. Or she's just sidestepping me, I don't know, haha!"
Source: music.uk.msn.com
Added by AutoAdmin
752 views