News
Folk duo inspired me - Boy George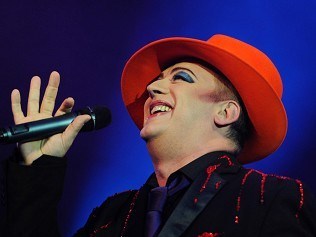 Boy George has revealed an unlikely inspiration behind the Culture Club reunion - American folk duo Simon and Garfunkel.
The Karma Chameleon singer is back rehearsing with his old band and is playing a gig on New Year's Eve in Sydney and plans to record a new album.
He said: "We know each other, we've known each other since we were really young.
"We've never been mortal enemies, we've had our fallouts but we've always been quite fond of each other.
"No-one is forcing us to do anything, we're doing it out of our own choice.
"We're just trying to write good songs. I think that's the criteria, to write really beautiful melodic songs about something with a bit of substance that's all you can do".
The band, who had nine top 10 hits, came out of the New Romantic movement in the 1980's and George's flamboyant style was central to their appeal.
The London-born singer, real name George O'Dowd, said: "I don't think about what other people are doing when I'm writing. The only thing is I saw a great documentary on Simon and Garfunkel which inspired me. It made me think about what I was doing, more it made me think I really want to write something beautiful".
George, who is regularly touted as a contestant on television reality shows, admitted he had been tempted to take part in one but decided against it.
He said: "I think it's best not to do it, it removes some of the mystery. I get asked every year and I've come close but I don't think so".
Source: music.uk.msn.com
Added automatically
2053 views