News
Bieber suffers concussion in Paris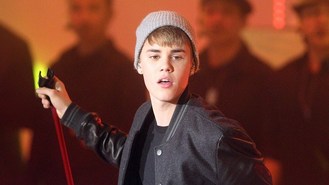 Justin Bieber has suffered a concussion after stumbling backstage during a performance in Paris.
The teenage heartthrob's injury was the latest incident in a chaotic tour of Europe, after several fans were injured in a stampede for free tickets to see the Baby singer perform in Norway.
Justin confirmed to gossip website TMZ.com he fell into a glass wall at the Paris venue and felt light-headed but was able to perform his last song before going backstage and passing out for 15 seconds.
Justin later tweeted: "Just smacked my head and needed some water. all good. I'm Canadian. We are tough. The show must go on."
The previous day there was chaos in Oslo when Justin offered free tickets to see him perform at the city's Opera House. Forty-nine fans were reportedly hurt in the stampede for tickets and 14 were taken to hospital for treatment.
Justin stepped in to try and help, tweeting: "Norway - please listen to the police. I dont want anyone getting hurt. For the show to happen u must all listen to the police.
"We are all concerned for your safety and i want what is best for u. love you and im excited to see you all [sic]."
The 18-year-old singer was then chased by fans on speedboats, waving banners as he left the concert by boat.
Justin posted footage of the James Bond style water chase online.
Source: music.uk.msn.com
Added by AutoAdmin
704 views