News
Coyne: Badu spat doesn't worry me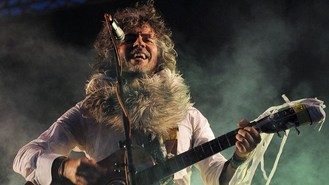 The Flaming Lips frontman Wayne Coyne has insisted he wasn't too bothered about his Twitter row with Erykah Badu.
The pair fell out after singer Erykah accused the band of releasing the video for their collaboration, The First Time I Ever Saw Your Face, without her approval.
In the video, she sits apparently naked in a tub, then later her sister Nayrok mucks about in a milky white substance and glitter. The disagreement spilled over on Twitter where Erykah invited Wayne to kiss her "glittery" posterior and he responded with a picture of himself with lips covered in glitter.
Wayne said of the spat: "This is not her fault. It's just the nature of the way Twitter works.
"Her fans can just sometimes lash out and be as mean as they want to be, which I think is interesting. That's the thing about Twitter - there's no referee, you know."
Wayne said he doesn't believe anything else will come of the episode.
"Luckily I'm doing so many things I don't have too much time to worry about it," he added. "And a lot of people I run into now loved, loved that video and I think it's true to what Erykah and I, in the beginning at least, thought we were going to show the world."
Meanwhile, The Flaming Lips are launching an attempt to break the Guinness World Record for most live shows in 24 hours, playing eight concerts between Memphis and New Orleans on Wednesday and Thursday. Trailed by fans along the way, they'll meet up with acts like Jackson Browne, Grace Potter & The Nocturnals and Hunter Hayes as part of the activities surrounding MTV's O Music Awards.
The Oklahoma rockers have been finalising details as they chase Jay-Z's record of seven shows in a day.
Source: music.uk.msn.com
Added by AutoAdmin
599 views