News
Joss records song to down arms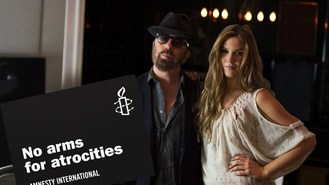 Joss Stone has recorded a new version of her song Take Good Care in a bid to urge world leaders to deliver an arms trade treaty that will "save lives and stop bloody conflicts."
The 25-year-old British singer has joined forces with Eurythmics' Dave Stewart and war photographer Paul Conroy to co-write the new version, which is being released in support of Amnesty International's call upon world leaders to deliver an effective and robust international agreement during their negotiations at the United Nations this month.
Joss said: "The arms trade treaty could be one of the most important laws ever to be secured. A successful treaty could quite literally save lives, stop bloody conflicts and prevent millions of women, men and children from being terrorised from their homes.
"We've seen how weapons in the wrong hands can have utterly devastating consequences. Not just for the victims themselves, but also for their community. That's why I fully support Amnesty International's call upon world leaders to deliver a robust and effective arms trade treaty, with human rights at its core."
Dave, who produced the track added: "When you think about the fact that every year two bullets for every person on the planet are produced, it is quite clear that the arms trade is out of control. There has never been a greater need to tighten regulations on the arms trade than now.
"Millions of people are dying unnecessarily because weapons are ending up in regions where they are being used to fuel conflict and commit the worst kind of atrocities."
Delegates from all UN member states are currently attending talks in New York where they will agree upon a treaty by which they want the trade in weapons to be governed.
Take Good Care is available to download from iTunes.
Source: music.uk.msn.com
Added by AutoAdmin
860 views