News
Dame Julie backs vocal cords work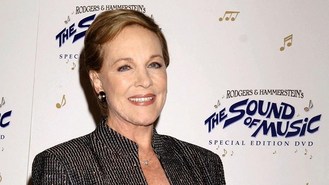 Dame Julie Andrews could be one of the first patients to receive artificial vocal cords that might one day restore her voice.
The Mary Poppins star has visited a team of scientists who hope to test the elastic synthetic tissue on patients suffering from voice loss as early as next year.
Julie, 76, who permanently lost her full vocal range after an operation in 1997, is being treated by a voice doctor collaborating on the project.
She could potentially be one of the first patients to benefit from the injected biogel, which is designed to vibrate in the voice box like a real vocal cord.
The vocal cord gel has been developed by Professor Robert Langer's team at the Massachusetts Institute of Technology (MIT) in Boston.
Julie became involved after being treated by Professor Steven Zeitels, director of the Massachusetts General Hospital Voice Centre, who is working with the MIT team and whose other patients include veteran rock singer Steven Tyler, of Aerosmith, and British pop star Adele.
The Sound of Music star chairs a non-profit fund-raising organisation called The Voice Health Institute which is supporting the research. Members of the Institute's advisory board include Lionel Richie and Roger Daltrey, of the Who.
Prof Langer said: "Julie Andrews has visited our lab several times. I think she really wanted to learn about what we were doing and see if there was any way she could help.
"She's just a wonderful person and everybody in our lab really enjoyed interacting with her."
Senior MIT scientist Dr Sandeep Karajanagi said he would like to see Ms Andrews treated with the biogel vocal cord. "That's what I'm waiting for. That would be great, if we were able to help Julie Andrews."
Source: music.uk.msn.com
Added by AutoAdmin
708 views