News
Morissette: I'm a bit mellower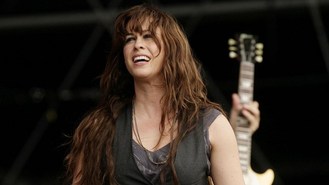 Alanis Morissette has revealed she's not as angry as she used to be.
The Grammy-winning singer - who was known in the early years of her music career for hard-hitting songs such as You Oughta Know - has found personal happiness with her husband, rapper Mario Treadway, and their young son Ever.
"I'm quite happy to have changed. I've always felt fulfilled, but now I'm happy, too," she said.
"There's still a feistiness, but it's just not as active."
Alanis, who is back with new album Havoc And Bright Lights, insisted her new-found mellowness doesn't mean the quality of her songs has suffered.
"Your talent and gift doesn't disappear overnight because you're not as mad as you used to be," she said.
"That suggests that you can only write one sort of song, too. Or that you're emotionally and socially retarded, bumbling from one disaster to the next. Or worse, writing about the same disaster for 30 years. Can you imagine? That would be an absolute train wreck."
Source: music.uk.msn.com
Added by AutoAdmin
674 views