News
Rihanna: I've been snowed under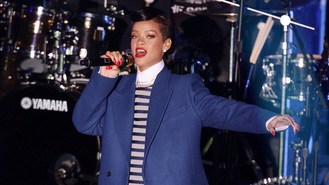 Rihanna has confessed she's been too "drenched in work" to do any festive shopping as she switched on the Christmas lights at a London shopping centre.
The Rude Boy singer - who is on her 777 tour of seven countries in seven days - flicked the switch in front of 20,000 fans at Westfield in Stratford, east London, and revealed she adores coming to the capital.
"I love coming to London, I love coming here. I have so many fans here, the fashion here, the music here, I love performing here," she said.
Rihanna has been working hard on her new record Unapologetic and hasn't had time to hit the shops.
"I have not started, not a single thing yet. I'm so drenched in work for my new album Unapologetic and when I was in the studio I really just stuck to studio. I'll do Christmas shopping now the album is in stores," she added.
"The most difficult person to buy for is my little brother. He's getting to an age where toys aren't fun anymore, he likes video games but he has those already, he likes clothes, but I don't know what's special for Christmas - any 16-year-olds here? What should I get my bro? Tweet me!"
The singer - who reportedly pocketed £500,000 for the Westfield appearance - has come under fire for not speaking to members of the media and competition winners she invited on the 777 tour.
But Rihanna, who was dressed in a blue coat and striped top and trousers, insisted the tour had been "so special".
She added: "This is a completely different demeanour of performance than we've ever done. It's tinier venues, really intimate, you really get the fans faces one-on-one and that's really special."
Source: music.uk.msn.com
Added by AutoAdmin
623 views