News
Kesha: I still love being scummy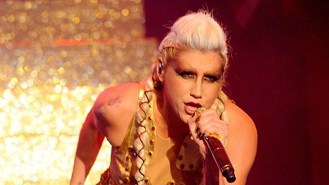 Kesha has admitted she still loves "being kind of scummy".
The Tik Tok singer, who found fame celebrating the trashy life and has previously described herself as pop's "dirty little sister", revealed she hasn't changed despite her fame.
She said: "I still love having really terrible house parties. I still don't live my life with my happiness being dependent on name brands or how much things cost or some sort of VIP club... I still love being kind of scummy, to be honest."
While she is enjoying her success, Kesha - who releases new album Warrior this week - revealed she still likes to get away from it all. At the end of her last tour, she turned off her phone and backpacked around Central and South America and Africa.
"When you live a life where you're surrounded by a lot of people all the time, it's a very ego-centric lifestyle," she said.
"And to prevent myself from like totally living on another planet, I wanted to run around barefoot and sleep in the dirt and go meet random people who have no idea who I am and just don't give a (care). And that was really nice."
Warrior features several other music stars, including Iggy Pop and Patrick Carney of the Black Keys.
Kesha said she pushed herself to put her "heart on the line" by reaching out to the musicians she admired.
She continued: "It was nice to know that people that I really love wanted to collaborate. Because I feel like when you collaborate with somebody, there has to be some element of mutual respect. Because you're putting your name with their name for the world to judge. So I'm really happy I pushed myself to reach out to these people."
Source: music.uk.msn.com
Added by AutoAdmin
852 views