News
Lambert: Singing let Les Mis down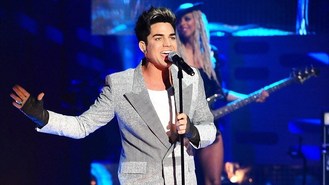 Adam Lambert has blasted the makers of Les Miserables for casting Hollywood stars instead of professional singers in the big screen version.
Anne Hathaway, Amanda Seyfried, Eddie Redmayne and Russell Crowe show off their vocal skills in Tom Hooper's star-studded adaptation of the hit stage musical.
But former American Idol star Adam told Twitter followers: "Les Mis: Visually impressive w great Emotional performances. But the score suffered massively with great actors PRETENDING to be singers.
"It's an opera. Hollywood movie musicals treat the singing as the last priority."
Adam added: "I felt like I should ignore the vocals and focus on the emotional subtext - but the singing was so distracting at times it pulled me out. The industry will say "these actors were so brave to attempt singing this score live" but why not cast actors who could actually sound good?"
But the Trespassing singer did have words of praise for Anne Hathaway's portrayal of leading lady Eponine.
"One more clarification: DO go see it for Anne Hathaways performance. It was breathtaking," he wrote.
Source: music.uk.msn.com
Added automatically
1271 views