News
N-Dubz star Dappy: I was the victim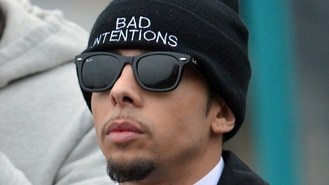 Dappy has denied sparking a fight at a petrol station by spitting at two girls and claimed that he was the victim of the attack.
A trial at Guildford Crown Court has been told the N-Dubz star sparked a "mob attack" when he spat at two teenage girls as they sat at a garage in Surrey, at about 3.30am on February 28 last year.
Dappy, 25, said of his arrest: "I didn't even want a lawyer or solicitor because I knew it wasn't anything to do with me; in fact, I feel I was the victim."
He said he had been out that night to celebrate the release of his single. "[I was the] happiest man on Earth, my album was almost finished, it was a great feeling and my single, Rockstar, was coming out," he said.
The rapper said he went over to the group at the petrol station to promote his new single. He said they did not believe him when he said that he had just recorded with Brian May and they started to ridicule him. He denied calling the girls s***s and spitting at them.
He said: "They had it in for me, they really didn't want me to leave being happy with what I had been doing, which was promoting my product. All I did was be polite, I wanted to find out what the problem was, why they were acting this way towards me." He added: "If he hadn't put me in that headlock, there would never have been a physical altercation. He brought me straight down to the floor, my whole body was flat on the floor, until my security came and got me out of the headlock."
He added: "Am I not allowed to defend myself if I am put in a rapid headlock?"
The court heard that Dappy had previously pleaded guilty at Chelmsford Magistrates' Court to two offences of battery in an earlier and unconnected incident, where he spat at a woman in 2008. Dappy said it happened in a period when he was acting "irrationally" following the sudden death of his father in 2007.
Earlier a teenage witness in the trial admitted in court sending tweets about selling her story to the press and that she was "in the process of sending the singer down".
Dappy denies two counts of common assault, one of assault by beating and one of affray.
Source: music.uk.msn.com
Added automatically
983 views