News
Timberlake teams up with Jay-Z?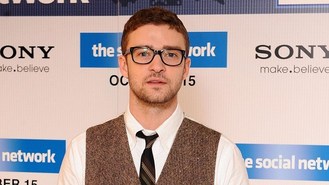 Justin Timberlake is reportedly about to make his music comeback, with a little help from hip-hop star Jay-Z.
The 31-year-old singer and actor - whose last album FutureSex/LoveSounds was released in 2006 - has been focusing on his film career, and said last year he was not rushing his return to music as he did not feel ready.
But unconfirmed reports have begun circulating online, apparently originating from Florida's Radio Now 97.9 station, that Justin is about to release a new single, featuring Jay-Z and produced by longtime collaborator Timbaland.
Justin has now fuelled the rumours by tweeting: "Thursday, January 10th, 2013 at 9:01 am PST..." sparking suggestions that this is the time the track will hit the internet.
There are further rumours that Justin will also be releasing a single with Beyonce.
The Social Network star told Vanity Fair last year: "Look, Jay-Z has put out 11 albums, and I was talking about doing a collaboration with him, and he said, 'I can't do it right now, but I'll get you on the next album.' I was like, 'No, man, I don't work like that.'
"'This sounded good to me for you and me to do together, and if it doesn't work, then I totally get it, but I won't be putting an album out next year; these aren't a dime a dozen to me'."
Source: music.uk.msn.com
Added automatically
1162 views