News
Pussy Riot members have no regrets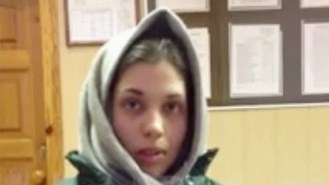 The imprisoned members of the Pussy Riot feminist punk band say they feel no regrets about the irreverent "punk prayer" against President Vladimir Putin in Moscow's main cathedral that landed them behind bars for two years.
Nadezhda Tolokonnikova and Maria Alekhina described their harsh prison conditions in interviews published on Wednesday in the independent Novaya Gazeta newspaper. They said they don't expect clemency from authorities.
Tolokonnikova, who works at a sewing machine like most female prisoners in Russia's prison colonies, was quoted as saying she has had her fingers punctured by the needle but has picked up speed and experience and can now meet her quota of making lining for 320 jackets a day.
Like other prisoners, she bathes once a week and uses cold water to wash the rest of the week.
"I am not paying much attention to living conditions," she said in an interview filmed last month. "I'm ascetic, and living conditions matter little for me."
Tolokonnikova said she meditates to prevent her spirit from being dulled by the monotonous labour. She added that the main thing she misses at her prison colony is the ability to read freely.
Three members of Pussy Riot were found guilty of hooliganism motivated by religious hatred in August after they raucously prayed to the Virgin Mary for the deliverance from Putin at Christ the Savior Cathedral.
One of them, Yekaterina Samutsevich, was later released on appeal, but Tolokonnikova and Alekhina were sent to prison colonies last autumn.
Tolokonnikova argued that their protest wasn't aimed at religion. "It was an ironic, cheerful and bold act, a political outcry, so to speak," she said, adding that the Russian state media interpretation of it as a blasphemous action was deliberately wrong.
Source: music.uk.msn.com
Added automatically
957 views