News
Cyrus: I'm in a different place now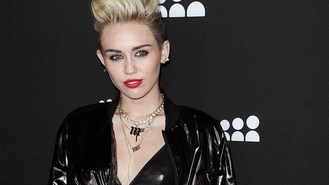 Miley Cyrus has revealed that she feels "disconnected" from her past hits.
The 20-year-old singer and actress admitted she has trouble identifying with her old musical self, as she releases her edgy new single We Can't Stop from her upcoming fourth album.
"Right now, when people go to iTunes and listen to my old music, it's so irritating to me because I can't just erase that stuff and start over. My last record (Can't Be Tamed) I feel so disconnected from now," she told Billboard.
"I was 16 or 17 when I made it. When you're in your 20s, you don't really know that person any more."
However, Miley, who has teamed up with hip-hop stars such as Pharrell Williams, Snoop Dogg, Wiz Khalifa and Will.i.am for recent collaborations, said she isn't "reinventing" herself.
"There's no new person, I'm still the same person. I've found myself in a different place," she said.
"I think a lot of people wanted to make me the 'white Nicki Minaj' and I didn't want to be it. My talent is I'm a singer - I love her music but that's not what I'm trying to be. I wanted to let people gradually know who I am, starting with We Can't Stop."
She added: "I'm not trying to be a hip-hop artist... I'm a pop singer."
Miley, who is engaged to Hunger Games actor Liam Hemsworth, said her forthcoming album will show a new side to her. The as-yet-untitled record is expected to be out later this year.
"My record's going to be like a movie - it's going to unfold from where it starts out. You gotta know the character, you gotta know me and you gotta go through the conflict and sadness to get to the happy ending," she teased.
Source: music.uk.msn.com
Added by AutoAdmin
726 views