News
Smokey Robinson still writing songs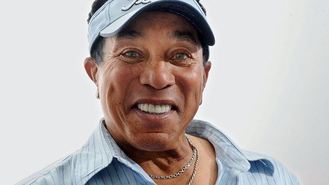 Smokey Robinson has said that even after five decades in showbusiness he still can't stop writing songs.
The man who helped shape Motown with instantly recognisable hits like My Girl and Tears Of A Clown revealed he scribbles down lyrics on a pad or leaves a fragment of a tune on his own voicemail whenever inspiration hits.
"I write on the plane, on the bus, on the train, I write in the bathroom," Smokey said in an interview. "I do have a bunch of songs that I'm very anxious to record."
But you won't hear any of that new material on his latest album, Smokey And Friends. The collection of classic Robinson tunes pairs the legendary singer-songwriter with famous music names including Sir Elton John, Mary J Blige, James Taylor, John Legend and Steven Tyler.
Smokey sang You've Really Got A Hold On Me in the studio with long-time friend Steven Tyler, while the other tracks were pieced together electronically from separate recording sessions.
Each collaborator picked a favourite song written by Robinson. Elton, a friend for three decades, chose The Tracks Of My Tears, first recorded by the Miracles in 1965.
"When we're around each other, we have a great time. Neither one of us is from affluency," Smokey said of Elton. "So when you come up like that and your dream is to be in showbusiness or to sing or play and you get the chance to really do it and earn your living, and it's your life - it's a wonderful thing."
Smokey heard John Legend cover his song Quiet Storm in concert and told the 35-year-old soul star backstage that he should record a version of it.
"I look at people like John and I know that the future of showbusiness is in good hands," he said. The two join up on a new version of the tune, which in 1975 marked Smokey's return to the industry after a brief hiatus.
"I'm very close to that song," he said. "It became a radio format and there are 'quiet storm' stations all over the country now."
Source: music.uk.msn.com
Added automatically
874 views