News
Blunt: My hit song became annoying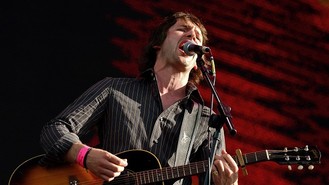 Chart star James Blunt has declared his own best-selling hit You're Beautiful was "annoying".
The 40-year-old singer admitted the tune was over-exposed and alienated a lot of people after being marketed to win over female female fans.
In an interview with the new edition of Hello! magazine, he said was nothing like the "earnest" figure he is reputed to be.
Speaking about his 2005 worldwide hit, he said: "There was one song that was force-fed down people's throats - You're Beautiful - and it became annoying, and then people start to associate the artist with the same word.
"I think, at the end of the day, I was marketed by a record company to appeal to women during Desperate Housewives commercials and you lose 50% of the population in doing so.
"The marketing also painted me out as an insanely serious person, an earnest person and, as all my friends know, I'm anything but. I have a couple of over-emotional miserable songs that I'm known for, but I think it's turned that corner now. People can see I don't take myself that seriously."
Former army officer James, whose most recent album Moon Landing will be reissued in a special edition next month, married Sofia Wellesley last month in Majorca with a small ceremony.
He said their thoughts are turning to parenthood: "Having children seems like an amazing thing to do. A lot of my friends and family have done it. It would be a shame not to experience that. Failing that I'll just have to buy a little dog."
Source: www.msn.com
Added by AutoAdmin
672 views