News
Brand releases Parklife spoof video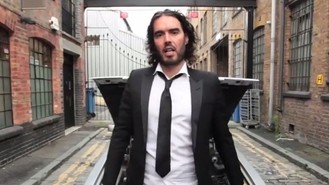 Russell Brand has made a spoof video to the tune of Blur's hit Parklife - in which he pokes fun at David Cameron and Nigel Farage.
The funnyman had recently found himself mocked after many people thought his rants sounded like the rambling lines of the 1994 track.
Many users posted the phrase "Parklife" after his messages on Twitter, as they compared his comments to the lines delivered by actor Phil Daniels in the song.
Now Russell has responded by performing a short version of the track, for which he teamed up with Irish musical comedy act the Rubberbandits, using sections of the original Blur promo.
The comedian has been railing against the political system recently with a new book called Revolution and his parody contains reference to ex Eton pupils in positions of power and the inequalities of the class structure in the UK.
And he explains that he is being mocked because his ideas are at odds with the way he speaks, by beginning the track: "Verbal dexterity plus estuary accent is what leads to parody of .. (Parklife)."
Wearing a black suit and tie, Russell calls the Prime Minister an "a**e wipe".
He grumbles: "Our ineffective system and poxy media means the only alternative seems to be mugs like Nigel Farage (Far Right)."
He goes on: "Suppose we can just distract ourselves with consumer trinkets from companies that exploit our resources and don't pay their taxes."
The comic - who is currently in the bestseller lists for online retailer Amazon with his latest book - posted the video on YouTube this afternoon.
Russell previously claimed he would respond to the jibes by recording a version of the Oasis hit Roll With It with his friend Noel Gallagher. Oasis and Blur had been chart rivals who famously went head to head in 1995 in an effort to claim the number one slot.
Source: www.msn.com
Added automatically
790 views