News
Pro Green 'sick' of ups and downs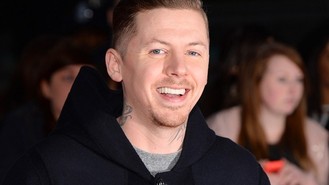 Professor Green wants to write a cheerful album.
The rapper, 30, has released his third album, Growing Up In Public, which he said allowed him to get "things off my chest".
But the chart star, who is married to former Made In Chelsea TV personality Millie Mackintosh, will start work on a fourth album when his tour ends in December.
And he said: "It would be nice to write a happy album for once. I'm not sure what people would think but it would be good for my mental state. It would give me a chance to write without having to draw on bad things that have happened, so I could just explore ideas."
Pro Green said he wants a quiet life.
"I'm a bit sick of all the ups and downs. I'm getting to a point in my life where I just want to chill out. I want to work, I don't want to be lazy, but I want to just work, and just be married and just live and just walk the dogs, without all the stuff and drama that seems to go with it," he said.
The rapper, who has suffered mental health problems and anxiety and is a vocal campaigner on the issue, said: "I need to understand what it is I do that makes my life more difficult.
"A lot of the time, we don't realise what we do that makes things hard, so we have to take a step back and work it out.
"One thing I know is I've learned my lesson from having too much time on my hands. I've got my focus back and I don't want to lose that."
Professor Green's album Growing Up In Public is out now. He begins a nationwide tour on November 28. For more information, visit professorgreen.co.uk.
Source: www.msn.com
Added automatically
899 views