News
John Lewis Christmas advert song 2014: Tom Odell, Real Love, review: 'overly-sentimental'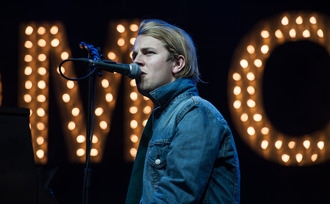 The John Lewis Christmas advert hasn't had a male voice since 2009, when The Guillemots singer Fyfe Dangerfield warbled through Billy Idol's 'She's Always a Woman'. Now they have chosen Tom Odell, a 23-year-old Ivor Novello winner who released a number one album last year and has developed quite a fan base thanks to his cherubic good looks and boyishly romantic music. Fittingly, one of his earliest champions was Lily Allen, who covered Keane's Somewhere Only We Know for the department store's 2013 advert.
Odell's biggest hit, Another Love, isn't a far cry from the little-known Beatles track Real Love that he's covered for John Lewis. His haunted, mockney-accented vocals trip softly over a lingering piano line, veering into a softly-sung falsetto chorus. It could almost be a Christmas carol before livening up with a rousing, choir-backed climax.
John Lewis have picked big hits to cover in the past but Real Love is an unusual song. It emerged after Paul, George and Ringo reworked a handful of home recordings Lennon made in 1979. From this they created Real Love and released it as part of the Beatles Anthology in 1995. It's a strangely melancholic singalong about waking up to life after falling in love.
Odell's treatment of it is certainly sympathetic, in that it is as mild, inoffensive and, yes, goosebump-raising as its predecessors. He has a lovely falsetto but his voice all but disappears as he swings gently into this year's Christmas earworm: "It's real love, it's reee-aal love", complete with shimmery strings and a gushing choir.
Singing for the advert has proved a smart career move. Ellie Goulding performed Your Song at the Royal Wedding reception after spreading festive cheer with it in 2010. Gabrielle Aplin's debut album, released while her rendition of Power of Love rattled through commercial breaks in 2012, entered the charts at number two.
For Tom Odell, Real Love will likely work its way up the charts and perhaps even take The Beatles Anthology with it. But it feels like a missed opportunity for John Lewis. While they opted for a different song choice and a new kind of singer, they've wound up with the same, overly-sentimental result. Odell has far more talent than this whimpering track suggests, but the result feels tired. Of course, it's still going to be inescapable this Christmas.
Source: www.msn.com
Added by AutoAdmin
790 views