News
Doherty in rehab, plans help fund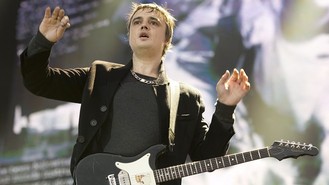 Pete Doherty is back in rehab, this time in a Thai treatment centre where he is planning to set up a fund to help other addicts.
The Libertines frontman is known for his struggles with drug addiction and is seeking help in Thailand at the moment, where he has been inspired to offer the same opportunity to others.
Bandmate Carl Barat, who is visiting him, told the NME: "Pete's in a great place. We're in a great place staying together. I'm going to keep popping out and seeing how it is going, show him a bit of support.
"He's grand, [rehab has] taken about 10 years off him. I have to pinch myself. These seem like great times."
Simon Mott, who runs the centre Hope Rehab Thailand, added: "Peter is not only a talented musician but a strong character who has a lot to offer. He has expressed a wish to use his influence to help other struggling addicts. Together with Hope he wants to start a trust funding treatment places."
Carl also spoke about working on the new Libertines album, which the pair have been doing in Thailand.
He said: "We're still going through the old tracks and new bits and bobs and seeing where we're at, really. The songs are going to dictate their own sound. We've only done bits and bobs on tour.
"We were both reminding each other of scores of tunes that we'd forgotten that had never seen the light of day. But Plan A is to write new things. There's about five new tunes on the work bench at this stage and that's just from having been in each other's company, not even sitting down to write."
He continued: "People are constantly saying, 'Have you lost the anger?' No. 'Have you lost the chemistry?' No. Genuinely, in my heart of hearts, I know that none of that is lost and we'll pick up where we left off."
Source: www.msn.com
Added automatically
877 views