News
Anastacia: Cancer pushed album on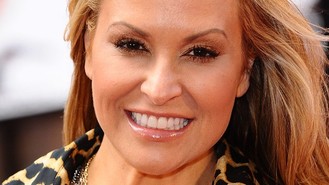 Anastacia has revealed how when she was diagnosed with breast cancer for the second time she immediately started writing songs for her latest album.
The US singer-songwriter said she is now feeling "excellent" following a double mastectomy after the disease returned in February 2013.
"My latest album is called Resurrection, and that really represents me right now," she said.
"It really represents what I wrote. I didn't realise how much I'd grown until I'd listened back to the things I wrote for it. I can still do a song like Paid My Dues or I'm Outta Love, that girl is still in there, but I have grown, there are songs of evolution on the album. Songs that feel like the resurrection has begun."
The Chicago-born star said she threw herself into her work after getting the call from her doctor.
"I actually started writing right away, because I wanted to write something before I had surgery. When I had cancer before I didn't know how much it was going to slow me down, the radiotherapy. I just thought I'd be able to work through it, carry on writing, but that didn't work.
"This time I wanted to know before all the pain and surgery and scars and how I was going to be, that I'd written something first."
Anastacia said she had already made the decision to have an operation if the cancer returned.
"I said around the time I was first diagnosed that I would have a double mastectomy if it came back, and then it came back, so I had a double mastectomy. I knew I didn't want to deal with it again, and it seemed like an easy thing to say - although not an easy road to take - but really there was no choice.
The singer said she felt that the return of the disease was almost a "blessing" because of the way she had dealt with it.
"In a weird way I feel blessed with the second cancer, because I didn't learn what I needed to learn first time around, I felt so in control and I had the upper hand, which is rare with cancer. It's a wonderful feeling knowing I won't have to deal with breast cancer again."
Anastacia's sixth album Resurrection was released earlier this year and she's currently touring Europe. For more information go to www.anastacia.com.
Source: www.msn.com
Added by AutoAdmin
704 views