News
McCartney tribute to Joe Cocker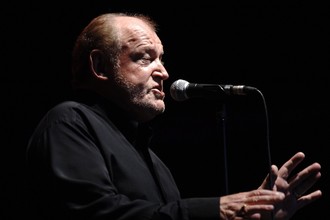 Former Beatle Sir Paul McCartney has led tributes to rock and blues singer Joe Cocker, who has died at the age of 70.
Cocker, who was born in Sheffield and had a career spanning more than 50 years, died today after a battle with lung cancer.
He was perhaps best known for his cover of The Beatles' song With A Little Help From My Friends, which reached number one in the UK in 1968.
Sir Paul said: " It's really sad to hear about Joe's passing. He was a lovely northern lad who I loved a lot and, like many people, I loved his singing
"I was especially pleased when he decided to cover With A Little Help From My Friends and I remember him and (producer) Denny Cordell coming round to the studio in Savile Row and playing me what they'd recorded and it was just mind-blowing, totally turned the song into a soul anthem and I was forever grateful for him for doing that.
"I knew him through the years as a good mate and I was so sad to hear that he had been ill and really sad to hear today that he had passed away. He was a great guy, a lovely guy who brought so much to the world and we'll all miss him."
Beatles drummer Ringo Starr also paid tribute to his friend, saying: "Goodbye and God bless to Joe Cocker from one of his friends, peace and love."
Edgar Berger, chairman and chief executive of Sony Music Entertainment International, who signed Cocker, said: "Joe Cocker is a legendary artist of rock and blues history and yet he was one of the most humble men I've ever met.
"His iconic voice will forever be etched in our memories and our thoughts go out to Joe's wife Pam and his family at this difficult time. Joe will live on in the hearts of millions of fans around the world."
The son of a civil servant, Cocker was born in May 1944, living in Sheffield until his early twenties.
He worked as a gas fitter while gigging in local pubs and clubs and came to prominence in the early 1960s, famous for his distinctive gravelly voice.
A close friend of George Harrison and Paul McCartney, he shared a stage with other musical legends the Rolling Stones, Jimi Hendrix and Janis Joplin, his flailing arms and physical idiosyncrasies on stage winning him fans as much as his voice did.
His cover of A Little Help From My Friends reached number one in the UK in 1968, and a year later he performed the song at the famous Woodstock Festival, which helped launch his career and became the theme song for the TV series The Wonder Years.
In 1970 Cocker embarked on a major tour of the US, performing in 48 cities with a band of over 40 musicians christened Mad Dogs And Englishmen and recording a third gold album and a concert film.
He survived problems with alcohol and drugs to relaunch his career in the 1980s, and won a Grammy and an Oscar for his duet with Jennifer Warnes, Up Where We Belong, which appeared in the 1982 Richard Gere film An Officer And A Gentleman.
A prolific artist, he recorded 23 studio albums and 40 albums and was awarded an OBE in 2007 for services to music.
He lived in Colorado in the US and a way from music enjoyed long walks in the mountains with his dogs, fly fishing, playing snooker with friends, and growing tomatoes in his greenhouse, his record label said.
He is survived by his wife Pam, his brother Victor, his step-daughter Zoey and two grandchildren.
Obituary - Joe Cocker
Source: www.msn.com
Added automatically
1031 views