News
Sam Smith: X Factor bad for writers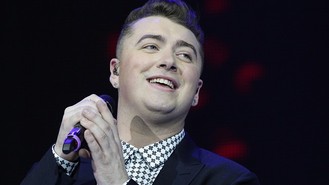 Sam Smith has confessed he would never have auditioned for The X Factor, branding the show "damaging" for songwriters.
The 22-year-old Stay With Me singer performed as part of the live final show in this year's ITV reality series, but told the Daily Mirror he thinks The X Factor is potentially stifling budding young musicians who compete from writing their own songs as it encourages covers.
Sam said: "It was a very conscious decision for me not to audition. It is for people, and it isn't for people.
"I feel that X Factor is perfect for singers who sing, and that's all they want to do. They don't care what they sing, they just love singing.
"You could sing on a cruise ship or release a cover album, that's what it's for. Because when you think about it, every week, that's what you do.
"You're singing other people's songs. People are judging you on other people's music.
"The minute I started writing music, I knew that none of that stuff was going to be for me. I want people judging me on my voice and my songs - that's what's important to me.
"I always say to people: 'If you're a singer, go for it.' It's an amazing platform. But if you're not, and you're a songwriter, I think it's actually quite damaging for you to go on there.
"You're singing other people's music, so then when you release your own stuff, people might not like it."
Sam - who has achieved global success in the last year - admitted he was disappointed not to meet Cheryl Fernandez-Versini when he appeared on the live final at Wembley Arena, as he is a big fan.
He revealed: "I didn't like that I didn't get to meet Simon [Cowell] and Cheryl. I would have thought they would come and say hello, or I'd have got to go and say hello. But I never got to see them."
He added: "I'm passionate that nobody should judge anyone else until they're at the top of their career and they can give people amazing advice after releasing four or five albums.
"That's why I love Cheryl - she has released a lot of music and knows what she's talking about when it comes to products and being an artist and being famous."
Source: www.msn.com
Added automatically
971 views