News
Richie thrilled about Glasto debut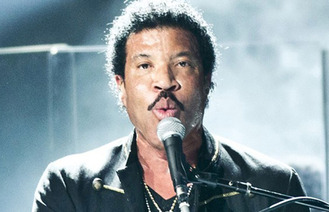 Lionel Richie has revealed his pride about making his debut at Glastonbury Festival in 2015.
The Truly crooner has been announced as the Sunday afternoon performer at next year's event.
"I'm very excited that I will be making my UK festival debut. Glastonbury has a phenomenal history and the alumni of artists who have previously played is incredible, so I'm honoured to be joining that club," he said.
Lionel revealed he is more engaged in popular culture than many artists of his age and stature.
"You have to be in the business, you have to be eye to eye with everyone else," he explained.
"I'm eye to eye with Justin Bieber and Miley Cyrus, and Kanye and Justin Timberlake. I know they're not contemporaries of mine as such - I have my group; Sting and Elton John and people my age - but if I'm going to be in this business, I need to know who all those young artists are and what they're up to. That's my job. I have to meet them. I have to know The Weeknd and Bruno Mars or I'm not officially in the business."
The 65-year-old singer added: "I need to know who the good songwriters are, who the bad ones are, who the competition is, who's making the best records. I have to be able to think like that. It is about competition, even after all these years."
Lionel, who has sold more than 100 million records, placing him among the top 50 best-selling artists of all time, said he will not shy away from performing his top hits when he brings his All Night Long tour to the UK in February and March.
"That's the whole point!" he said. "You get these artists that don't want to play their biggest hits, or they'll do a reworking of it, but I say, if you're lucky enough to have a song that people request over and over again, play that damned song."
"The versions we've been playing are going to be as close to the originals as possible. If a crowd come out to hear Easy, they're not going to get a new arrangement, with a harmonica solo and Willie Nelson coming on to sing it. They're going to get it down the barrel. Three Times A Lady too, Dancing On The Ceiling, you name it, we play it."
Source: www.msn.com
Added automatically
1029 views