News
Is This The Best Gift Ever? Justin Bieber Buys Himself A Multi-Million Dollar Christmas Present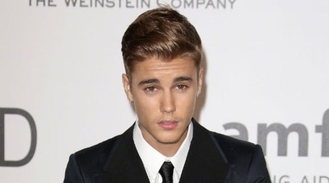 Some people say that we've lost the true meaning of Christmas as the holiday has become all about the gift giving. And judging by Justin Bieber's latest pressie, they may well be right!
Whilst we were all unwrapping festive jumpers and novelty mugs, the 20-year-old was swanning around in the most lavish Christmas present of all time - his own private jet. It's not clear who bought the star the extravagant gift, but considering that the planes can cost between $4 million and $300 million, we reckon he gave the gift to himself. Either that or he has very generous friends.
Private jet selfie! (Justin Bieber/Instagram)
Kitted out in a grey top with matching beanie hat, Biebs snapped a selfie inside the jet, posting the image to Instagram with the caption, "New jet for Christmas, and she's beautiful." And he wasn't lying, with plush cream leather seats, mahogany panelling and a scattering of blankets and throw cushions, the luxury plane was definitely fit for a pop prince. He then shared a snap of the the jet's fancy interior, captioning the image, "Merry Christmas and she's a beauty."
But the private jet wasn't the only luxury gift the Beauty and the Beat hitmaker received this year. On Christmas Eve the star showed off two new gold-encrusted bracelets, captioning the snap, "@kevinhart4real we're matching."
Is this the best Christmas gift ever? (Justin Bieber/Instagram)
With an estimated net worth of $200 million we can understand why Biebs would splash out on Christmas pressies, we just hope that he was equally as generous on gifts for his friends and family.
Gold bracelets and a private jet? Santa pulled out all the stops this year (Justin Bieber/Instagram)
Source: www.msn.com
Added automatically
975 views