News
Justin Bieber had 'amazing energy' while shooting Calvin Klein ads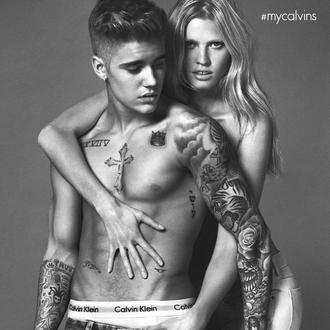 The fashion brand has hit back at rumours the 20-year-old singer acted like a diva while shooting its new underwear ads with Dutch model Lara Stone and insist he "showed up early every day."
Melisa Goldie, Chief Marketing Officer at Calvin Klein, said: "We shot the print and video campaigns over several days at Silvercup Studios [in New York City] with photographers Mert & Marcus and Johan Renck, who directed the campaign video. Justin showed up early every day with amazing energy - he completely trusted us and gave it his all."
The 'Boyfriend' hitmaker bonded with everyone, including top model Lara, 31, on the set and they even shared posing tips.
Melisa told UsMagazine.com: "Lara definitely gave Justin some modelling pointers, especially when we shot the print images, but when we started to shoot the commercial, Justin had some pointers for Lara. He came alive when it was time to perform, especially when the drum kit came out -- it was really impressive.
"We are incredibly proud of the final images and how they portray Justin and Lara. This campaign will definitely make history."
Source: www.msn.com
Added automatically
725 views