News
Zedd 'spellbound' by Selena Gomez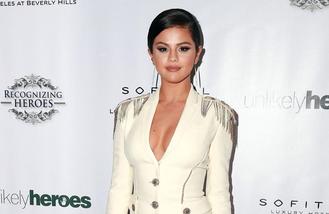 Zedd is "spellbound" by Selena Gomez.
The 25-year-old DJ is said to be romancing the 'Come And Get It' hitmaker and is reportedly happy to do anything she requests.
A source told HollywoodLife.com: "Zedd is completely spellbound with Selena and will pretty much do what she tells him."
Meanwhile, Selena recently admitted that she felt like "the world was against" her and Justin Bieber when they were dating.
Talking about her relationship with the 'Boyfriend' hitmaker, she said: "When you're young and you're being told so many different things... It almost felt like all we had was each other, like the world was against us, in a way. It was really weird but it was incredible. I would never take it back in a million years. You live and you learn, you know?"
The brunette beauty also admitted fame caused her "a lot of anxiety" at the time.
She added: "There was so much going on. You can't help but have some troubles here and there. I don't think it's a smooth process for anyone, and it definitely wasn't for me.
"There were a few months where I was a little depressed, where I wouldn't leave [my house] as much. I think I drove myself crazy for a little bit. My response was to stay in, which sucked. That's what I was trying to fix this past year, I'm finally getting a little bit more comfortable. It's a process."
Source: www.msn.com
Added by AutoAdmin
416 views