News
Kanye West is greater than Pablo Picasso according to Kanye West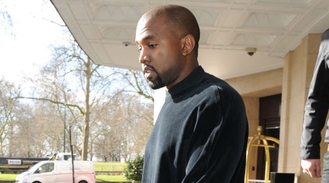 Kanye departs his London hotel for trip to University of Oxford (WENN).
Speaking about Minaj, who featured on his critically acclaimed album My Beautiful Dark Twisted Fantasy, released in 2010, he said: "One of the best things about the album was Nicki Minaj, and that she kicked my ass, on my own song, on the best album of the last 25 years. I was exiled from my own country, came back with my magnum opus, and I was beat by a girl." And what's wrong with being beaten by a girl, Mr. West?
Though the artist wasn't quite so quick to admit defeat against rapper Drake, with the West more or less claiming that, while he might enjoy mainstream success, he's no Kanye. "I think that progression of mind with the advent of a human being named Drake, you know, this idea of holding onto a No. 1 spot," he shared. "And then you get this guy that comes and blows out the water every No. 1 of any band ever. Be it me, or Paul McCartney."
The lecture also saw the star throw shade at music award shows like the Grammys and the BRITs, and insisted that their huge publicity should be given to events like the Nobel Peace Prize. "People talk about the number of views Brits get, or the number of views the Grammys get," he began. "They need to do award shows for the Novel Peace Prize, but I guess that doesn't sell as many MasterCard commercials," West quipped.
The opinionated rapper — who recently designed his own clothing line alongside Adidas, which is set to launch at a high price point — also stated that money should not be wasted on expensive clothes. "Clothing should be like food," he said. "There should never be a $5,000 sweater. You know what should cost $5,000? A car." Among a vast number of other subjects he discussed, Kanye also called The Matrix "the bible of the post-information age." You got that?
Source: www.msn.com
Added automatically
708 views