News
Lady Gaga Has Some Love Advice For Taylor Swift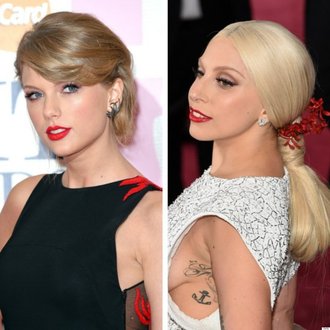 Lady Gaga shared some words of wisdom about love with Taylor Swift.
Whether it was her recent engagement, her amazing Grammys performance or her polar plunge into Lake Michigan (or perhaps a combination of the three), Gaga wound up on the receiving end of a compliment from Swift Sunday:
Is it just me or is Lady Gaga, like, fully LIVING right now?!? #goals
Taylor Swift (@taylorswift13) March 1, 2015
The "Venus" singer responded by calling the 25-year-old a "sweetheart" and offering her some encouragement in the relationship department:
@taylorswift13 wow you're a sweetheart! Life is friends, family, and love! We all see that in you, your prince charming will come! ❤️
— Lady Gaga (@ladygaga) March 2, 2015
Swift recently spoke to the Telegraph about her dating life when asked where she thinks she will be in five years' time.
"I'll be 30," she said. "'ll probably still be single, let's be honest. No one's going to sign up for this and everything that goes with it. Like, 'Hi, nice to meet you, want a date? Do you love camera flashes? I hope you do!' I don't know what's going to happen if I'm ever content in a relationship -- no idea how that's going to work. I don't even know if that's possible with the life I have."
Source: www.msn.com
Added automatically
750 views