News
Why do people on Twitter think Harry Styles got arrested?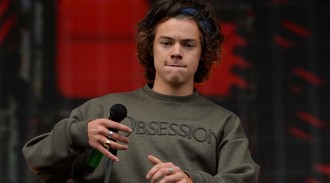 One hashtag caused quite a stir on Twitter and it looked like One Direction fans could be facing yet another twist in a very eventful fortnight. The hashtag #HarryGotArrested started trending and Directioners were pretty concerned.
Calm down people, remember what the date is. It's obviously April Fool's Day and someone is pulling our leg. There are no confirmed reports of Mr Styles' arrest, and it's very unlikely he'd be able to tweet about how excited he is to perform in Cape Town from his prison cell.
The whole thing seems to be a Twitter hoax – but hypothetically, what would Mr Styles be arrested for?
Perhaps the authorities should lock him up for the unforgivable crime of growing up. Shame on you, Harry.
Or for playing with a hat in a pool?
Maybe the authorities would cuff him for his weird, cryptic tweets.
Ah, we've got it. If they ever nicked Mr Styles, it would be for stealing millions of teenage hearts.
Source: www.msn.com
Added automatically
775 views