News
Adam Levine terrified by stage invader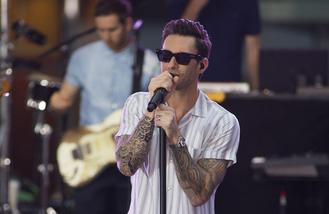 Adam Levine was left terrified when a female fan ran on stage last night (06.04.15).
The 36-year-old singer was performing with Maroon 5 at the Honda Center in Anaheim, California, when the woman invaded the stage to give him a hug.
Adam at first pushed the over-zealous fan away but, after apparently realising she wasn't a threat, he put his arm around her until security staff came to remove her from the stage.
He then told the audience: "It's just weird to be, like, in the moment, ya know? And your singing, and your eyes are closed, and you have this beautiful moment.
"And then the next thing you know someone's f***ing in your face. It's super terrifying."
The 'She Will Be Loved' singer sustained a cut on his ear from the woman's fingernail, but went on to complete the show without further incident.
Meanwhile, five-year-old Esperanza Duran was thrilled to meet the singer backstage at the show with her family.
The youngster, who has been battling stage-three kidney cancer, came face-to-face with the band before they took to the stage and told them how their music helped her through chemotherapy, surgery and radiation.
Her mother, Gloria Duran, said: "That smile on her face. That was worth everything in the world to me."
And the little girl, who has been in remission for two weeks, told Adam how she performed their song 'Sugar' at a recent talent show.
Gloria added to ABC7: "He was very in awe of that. He just told her thank you, how beautiful she was and her smile.
"I don't even have enough words to express what we're feeling right now."
Source: www.msn.com
Added automatically
810 views