News
Lennox: Singing with daughter was beautiful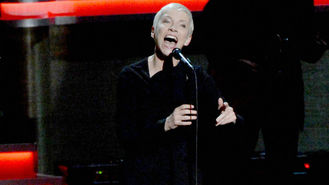 Annie Lennox felt it was a "beautiful thing" to sing with one of her children on stage.
The Scottish singer can currently be seen in America on her PBS special, Annie Lennox: Nostalgia in Concert. The performance was to celebrate the Grammy-nominated album, which featured Annie's interpretations of classic songs. But the show was made extra special by the addition of one of her daughters, Lola, who performed backing vocals.
"That was really a beautiful thing for me. Because, you know Lola is an aspiring singer/songwriter herself, and I don't think I would have asked her to perform any of my songs," she explained to Billboard. "I think the fact that it's something different made it appropriate. Because it might seem strange you know… that… how can I say, that sometimes musicians bring their offspring onstage, you know, in some kind of way."
The star has two children, Lola and Tali, and as well as performing with the rest of the band, at one point in the show, the 60-year-old and Lola were left to sing together on a track called Strange Fruit. But the former Eurythmics singer had no doubt that her offspring would be able to do the track proud in front of the live audience at the historic Orpheum Theatre in Los Angeles.
"I think that the way that we did it was very elegant and dignified. And I knew that Lola could do it beautifully. I knew that she'd carry it off," she smiled. "And I thought if we're gonna film this thing, in a way, it's just so beautiful for me personally to have her voice joined with me in that performance of that song. It was very meaningful. And we didn't make a big deal of it. Because there's no need to make a big deal of it. She was there as herself. She's my daughter. But she's there as herself."
Source: www.msn.com
Added automatically
699 views