News
Dr. Luke wants Kesha to turn over medical records to prove abuse claims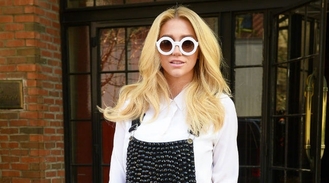 Kesha has asked for Dr Luke's request to be thrown out... (FameFlynet)
Despite Dr. Luke, real name Lukasz Gottwald, filing his defamation suit in NYC, the judge said that both cases "present similar claims with the possibility of inconsistent judgements, and the California case alleges specific California statutory claims."
THR also reported that Kesha and Dr Luke both live in California and that the alleged claims of sexual abuse, among other accusations, took place in that state. The 41-year-old's attorneys have now filed an appeal following the decision.
Kesha first filed a lawsuit for sexual assault and battery against the producer in October. Shortly after the 28-year-old filed her suit that claimed he had "sexually, physically, verbally and emotionally abused" her, Lukasz filed his own complaint. He requested that a judge dismiss her claims insisting the allegations are false, the statue of limitations has run out, and the parties agreed to handle all "controversies" in New York, according to the New York Daily News.
Many questioned the legitimacy of Kesha's claims at first because a 2011 deposition saw the outlandish singer swear under oath that she was not sexually abused or drugged by the songwriter. In the documents, Kesha denied that he had ever given her coke or a date rape drug, despite alleging in her recent lawsuit that he forced her to consume illegal drugs.
At the time Kesha filed the lawsuit, her lawyer, Mark Geragos, explained to TMZ in a statement: 'This lawsuit is a wholehearted effort by Kesha to regain control of her music career and her personal freedom after suffering for ten years as a victim of mental manipulation, emotional abuse and an instance of sexual assault at the hands of Dr. Luke.'
Source: www.msn.com
Added automatically
722 views