News
Ed Sheeran claims new Spotify record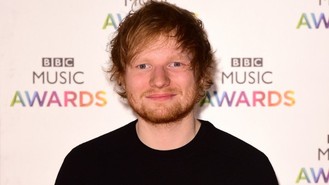 The Thinking Out Loud star, 24, who is currently on a world tour, already claimed the record as the most-streamed Spotify artist of 2014.
He has notched up a new milestone after the release of just two albums.
Mark Mitchell, general manager of Atlantic Records UK, said: "Ed achieving two billion streams on just two albums is a phenomenal achievement.
"It not only highlights the popularity of his timeless sound and the explosive growth of his army of fans, it also demonstrates how great music can be successful on all formats."
Spotify's head of label relations for Europe, Kevin Brown, said: "Breaking the two billion streams barrier on Spotify is evidence – were it needed – of Ed Sheeran's enormous popularity among the 60 million music fans on the service."
He said of the singer's decision to use Spotify when releasing his latest album X: "That it continues to be enormously popular with our users almost a year later and is still winning new fans is testament to the quality of the album and the enduring appeal of Ed as an artist."
Last year, Shake It Off singer Taylor Swift pulled her catalogue from Spotify saying that she was "not willing to contribute my life's work to an experiment that I don't feel fairly compensates the writers, producers, artists and creators of this music".
She went on to put her music on Jay Z's subscription-based music service Tidal.
But Ed has said that his popularity on the site helped his career.
"For me, Spotify is not even a necessary evil. It helps me do what I want to do," he has said.
Source: www.msn.com
Added automatically
765 views