News
Taylor Swift, Hydro Glasgow, review: Two-hour hyperactive spectacle is a triumph for both the artist and her fans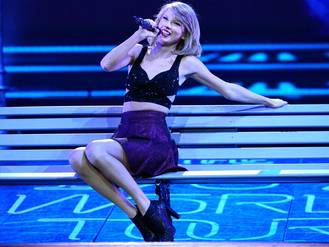 Taylor Swift arrives for the first UK date of her 1989 world tour in a freshly minted position as the most powerful entity working in popular music right now, having taken Apple to task over the royalty payment system for its new streaming service last weekend. She received, if not a grovelling apology, certainly a quick corporate snapping to attention and a hasty acquiescence to her wishes.
Of course, any artist with her enduring selling-power (she's had five albums in the American Top 5 over the last decade, dating back to her mid-teens) will command a lot of power in her industry. Yet it's the decision to flex it in such a public manner which will have decisively brought the 25-year-old former country star to the attention of a pan-generational audience outside of her own target market.
Those audience members – predominantly young, mainly female – waving home-made placards and aiming thousands of Apple's product units at her throughout her Glasgow show are unlikely to have been surprised by such a forthright declaration of intent.
Spanning the best part of two hours, her show is an invigorating, hyperactive celebration of empowerment, a show made joyous by its hugely budgeted pyrotechnics and dance sequences, sure, but also by Swift's powerful performance.
The concert is meticulously, militarily planned, as these things must naturally be, with a level of ambition which stretches beyond even that of your standard 12,000-capacity arena show. There is a mass "Singing in the Rain"-style choreographed dance sequence to "How to Get the Girl", with her troupe of buff dancers brandishing neon-streaked umbrellas and Swift wearing a pink light-up overcoat; an oddly amusing sequence during "I Know Places" where her troupe – all dressed in sequined wrestler masks – chase her around the stage through a series of mobile doors, while she belts out the great love-on-the-run sentiment of lines like "they are the hunters / we are the foxes"; and a bravura sequence where she performs "All You Had to Do Was Stay" (guitar in hand, strumming a delicate country riff), "Clean" and the anthemic "Love Story" while elevated high above the crowd on a crane-come-gangway moving around the centre of the hall.
Musicians against Spotify
Yet her manner is easy and natural, her command of the space masterful in a way that some lesser artists might not have the belief to attempt, instead keeping the stage management to a minimum and babbling inanities as they seek their marks.
Swift regularly addresses the fans directly, welcoming them as her friends and discussing subjects which are relevant and personal to her audience; loneliness, unpopularity, the unpredictability of love, the sadness of looking at social media and seeing "the highlight reel of other people's lives and the behind the scenes of our own."
It's also, wonderfully, a resonantly feminist show which emphasises a fun, heartfelt message over polemic. Filmed inserts see Lena Dunham, Cara Delevigne, Emily Watson, Haim and more wax on the subjects of womanhood and friendship with humour, while Swift's declaration that "you are not someone else's opinion of you... you are not damaged goods if you've made a few mistakes in your life" brought a tear to the eye and warmth to the heart.
Undoubtedly she's a star, yet her influence as a role model is increasingly well deserved.
Source: www.msn.com
Added automatically
744 views