News
Dave Grohl's broken leg and 15 other shocking stage incidents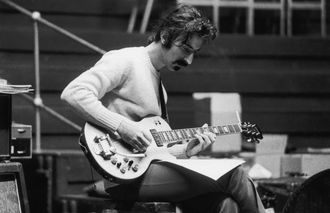 Dave Grohl broke his leg on stage in Sweden over the weekend and kept performing. The Foo Fighters frontman had been halfway through Monkey Wrench when he fell, and continued to strum on his guitar while paramedics worked on him. He was rushed to hospital but returned within the hour to finish the concert with his leg in a cast.
They've since been forced to cancel their entire UK and European tour, including a headlining slot at Glastonbury.
But he's not only one who's fallen off stage or suffered an injury. Click through for 15 dramatic on-stage accidents…
1. Michael Clifford of 5 Seconds Of Summer got too close to pyrotechnics during their recent Wembley concert when his hair caught alight. He left the stage, putting out the flames with a towel, and the show was cancelled. But he was back on stage the following night and has since apologised for alarming his fans. 
2. Katy Perry fell into a giant cake at the MTV's Latin America Awards in Mexico in 2008. But it was after that that things got most embarrassing, because the I Kissed A Girl singer repeatedly tried to get up but kept slipping over in the cream – and by the third fall, the audience were in hysterics. 
3. David Bowie was famously struck in the eye with a lollipop in 2004. He was performing in Norway when an audience member threw the sweet, which lodged in his left eye. Amazingly, he received treatment offstage and continued the gig. 
4. Viewers let out a collective gasp when Madonna had a nasty fall down a flight of stairs at the Brit Awards after nearly being choked by her cape. But the show must go on, and Madge carried on with her comeback performance, despite being in obvious pain. 
5. During a concert in Montreal in 2013, Beyoncé's hair got caught in a giant fan on stage. She sat beside it to sing Halo when the fan sucked her long hair into the blades. Ever the professional, she kept singing as she tried to pull herself free, and in the end crew members rush to her aid, cutting her hair from the fan. 
6. Several years before, Beyoncé had a spectacular fall while walking down a set of stairs on stage in Orlando. Her heel caught in her long coat and she somersaulted headfirst down the stairs, falling on her face. Luckily, she wasn't badly hurt. 
7. Pink narrowly escaped a serious injury when a harness she was wearing flung her into a steel barricade. The accident took place in Germany in 2010 and the singer was in too much pain to continue her performance. She was rushed to hospital for x-rays on her ribs, but nothing was broken. 
8. Robbie Williams fell off stage in Newcastle last year and broke a fan's arm. He was high-fiving members of the audience when he lost his balance and fell on top of a 52-year-old woman, who spent the night in hospital.
9. The Edge fell off the edge of the stage during the last song of U2's recent concert in Vancouver. He suffered series cuts and grazes to his right arm, and the rest of the band carried on without him. Afterwards he posted a message to Instagram: "Didn't see the edge!"
10. One half of Jedward had an accident at T4 On the Beach in 2010. Edward jumped a little too high and tore several ligaments in his leg. He tried hopping around the stage for the rest of the song, but ended up on an ambulance stretcher. For weeks afterwards, he was on crutches and bandaged from hip to ankle. 
11. Aerosmith frontman Steven Tyler has fallen offstage twice and suffered head, neck and shoulder injuries. The first time occurred in 2009 when he was singing Love In An Elevator and danced a little too close to the edge. The second time, a year later, guitarist Joe Perry gave him a playful shove that sent him flying off the stage.
12. Kurt Cobain was repeatedly punched by a security guard at a Nirvana gig early on in their career. The rocker had stage-dived and was being helped back onstage by the security guard when his guitar hit the guard in the face. He retaliated by attacking Cobain, and only stopped when Kurt's bandmates intervened. 
13. Cobain's Nirvana bandmate Krist Novoselic seriously injured himself at the MTV VMAs in 1992. He threw his bass guitar high in the air during the performance, but failed to catch it and it hit him on the head so hard that he almost knocked himself out. He stumbled off stage and was tended to by paramedics. 
14. Patti Smith was performing in Florida in 1977 when she fell 15 feet into the orchestra pit and broke her several vertebrae in her neck and fractured her spine. She was confined to a wheelchair for months before she could perform again and now, nearly 40 years later, she still suffers complications from the incident. 
15. Frank Zappa was performing in London in 1971 when a crazed fan ran on stage and pushed him into the orchestra pit. The singer/guitarist suffered a crushed larynx, fractures, head trauma and other injuries - it was so bad that his bandmates thought he was dead. The man's excuse? He thought Zappa was eyeing up his girlfriend in the crowd.
Source: www.msn.com
Added automatically
920 views