News
Rita Ora thinks working with Calvin Harris could have caused split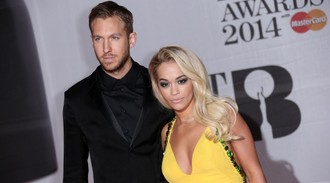 Rita Ora has warned not to mix business with pleasure, claiming that she thinks working with Calvin Harris led to their split last year.
At the time, the new X Factor judge was dating DJ Calvin, who wrote and produced the track I Will Never Let You Down which Rita sang on – but after releasing it at the end of March 2014, the pair called a halt to their year-long romance last June.
According to E!, in a new interview with Marie Claire she has said: "There was a reason why I split up with him. And there was a reason why I'm at this point in my life where I feel like I have so much musical freedom, and I don't have to explain myself to anybody."
Rita seems to have thought the track title reflected their relationship, but discovered that it didn't: "It was more of a thing where I was in awe. I was at that point in my relationship where I felt he could do no wrong. I thought he had my back and that he'd never steer me wrong.
"But then I Will Never Let You Down came out, and everything started to go a bit weird. I don't know if it was because business was mixed with personal or what."
Things got especially awkward when the Poison singer had to cancel her Teen Choice Awards appearance last summer after Calvin apparently refused to let her sing the track, although he hinted on Twitter that there was more to the spat.
She later told On Air With Ryan Seacrest: "For anybody who doesn't understand how it works, he wrote and produced the song. So he has to approve anything TV-wise, for anybody who doesn't get it. And obviously he owns the rights to it and he didn't approve the Teen Choice Awards… It is what it is, man."
Three months after the split, she told Glamour: "I'm gonna tell you the truth: I'm not doing too great. But, I'm doing better than I thought. I adore him and he's such an amazing human being. It was more about the situation. It was inconvenient. It sucks. It wasn't about 'us'. It was about the world we live in."
In December, she told Cosmopolitan: "It was the right guy at the wrong time. I was about to start a tour, and he was also all over the place.
"There's only so much you can do when you don't see each other. I really admire people who have long-distance relationships. It's an incredible achievement. I couldn't do it."
Rita also tells Marie Claire that she is on the look-out for love again: "I'm afraid of being alone. I'm not afraid to admit that, you know. I'm not embarrassed to admit that. I just hope it's not a never-ending cycle.
"Sometimes love just makes you feel crazy. And that feeling that we have as girls, just to have that feeling, even for five seconds, it's like crack. I mean, don't compare it to that, but you know what I mean. It's like comfort eating."
Marie Claire's interview with Rita Ora appears in the July edition of the magazine.
Source: www.msn.com
Added automatically
697 views