News
Radiohead star added to Meltdown festival 2015 line-up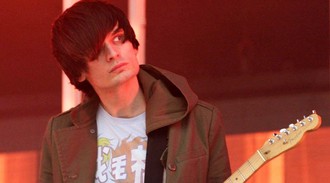 Radiohead guitarist Jonny Greenwood will perform his score for Oscar-winning film There Will Be Blood as part of this year's Meltdown festival.
The musician, who is teaming up with the London Contemporary Orchestra for the gig, is part of a line-up that includes Anna Calvi and Brian Eno at the festival which is organised by former Talking Heads frontman David Byrne.
Jonny will use an early electronic instrument called the Ondes Martenot, which creates an eerie ethereal sound, in his performance of the score he wrote for the 2007 film which starred Daniel Day-Lewis as a ruthless oil baron in early 20th century California.
Eno, a pioneer of ambient music who shot to fame with Roxy Music in the 1970s, is showcasing an installation called The Ship at London's Royal Festival Hall which he described as "a song in three dimensions".
Other more obscure acts include Russian musicians Phurpa, who use instruments made of human bones, Guatemalan Gaby Moreno and Spanish flamenco singer Estrella Morente.
The annual event at the Southbank Centre has seen some of music's biggest names, including David Bowie, Patti Smith and Jarvis Cocker, organise a series of gigs by their favourite performers.
Byrne is best known for his work with New York art rockers Talking Heads, who came out of the city's punk scene and were critical favourites, as well as scoring worldwide hits with Once In A Lifetime and Road To Nowhere.
Source: www.msn.com
Added automatically
756 views