News
Ellie and Dougie sing in nude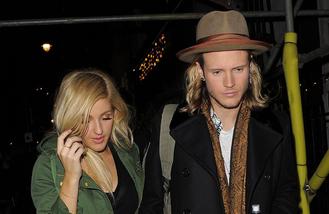 Ellie Goulding and Dougie Poynter sing together in the nude.
The talented couple - who began dating last March - revealed they frequently sit down and make music together, with the McBusted singer joking they always do so while naked because "that works with girls".
He explained: "We both play guitar, exactly what I do with my bandmates. We sit down and play together and, like, jam together and mess around."
His bandmate Danny Jones interjected saying: "Naked obviously?"
Dougie replied: "Yeah, exactly. That works with girls."
The 27-year-old star and his 28-year-old girlfriend - who got matching skull and crossbones tattoos on their hands earlier this year - are unlikely to be wowing their fans with a musical collaboration anytime soon though, because the 'Air Guitar' singer believes their styles are "too different" to work together properly.
He confessed: "But I don't think we'd ever release music together as our genres are too different."
And when Dougie isn't singing with the blonde beauty, his band have been playing lots of shows supporting One Direction, which they admit have been slightly stressful as their manager piled on the pressure for them to perform well after Zayn Malik quit the chart-topping band.
Tom Fletcher said: "It was our first show back since going on holiday, so we were trying to remember stuff. It was with One Direction and it was their first show since Zayn has left, so our manager was telling us we had to be on form as there were so many people watching."
Source: www.msn.com
Added automatically
780 views